Pictures from the November 7, 2019 NEOVETS Certified Military Talent Employer Certificate Presentation Ceremony at Bettcher Industries, Inc.
Birmingham, Ohio, 7 November 2019. (Far Right): Rick DeChant, Fellow NEOVETS Founding Board Member and Executive Director, Veterans Initiative at Cuyahoga Community College, claps and looks on with (Second from Right): Bettcher Industries Chief, Human Resources Officer, Tom Tomasula looks on with pride as NEOVETS Chairman of the Board Bryan A. McGown, presents the NEOVETS CMTE Certificate to Edwin Powell, (second from left) and President of Bettcher Industries, Tom Holm.
---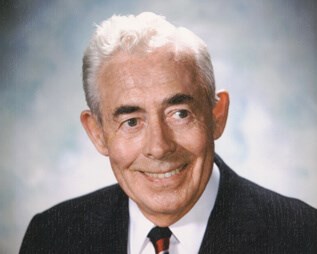 A man and a mission…
"Even as a child, they called me an inventor." Company founder Louis A. Bettcher, Jr. was a self-made man who saw a need, and proceeded to revolutionize the industrialized food processing field.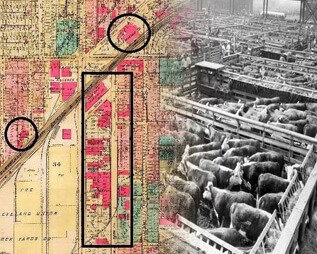 Humble beginnings…
During world War II, meat plants found it impossible to purchase new equipment. Founded in 1944, with just $800 in capital, Louis Bettcher's machine shop in Cleveland's meatpacking district was close by and ready to help.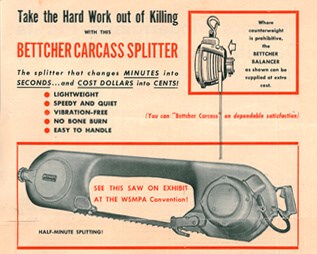 First product launched (1947)…
Inspired to do more than just equipment repairs for meat processors, Bettcher introduced a carcass splitter. It was the beginning of a long line of innovative products that changed an industry.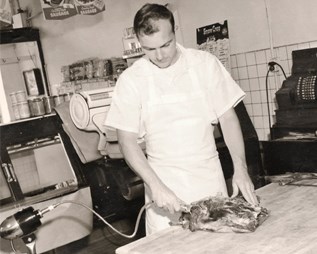 A brilliant new invention (1954)…
Determining that just a few ounces of meat on a carcass saved from scrap could mean hundreds of thousands of dollars in additional yield and profit, Bettcher responded. The new Whizard® handheld trimmer was (and still is) a big hit with meat processors.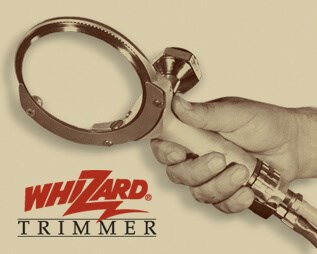 Trimmers take off…
Trimmers were sold to plants all over the United States, and export sales began in 1959. Bettcher sales passed the $1 million mark in 1965.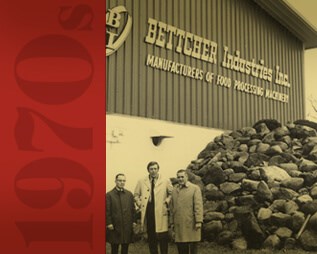 Expanding facilities for a growing company…
Needing more space, in 1971 we opened a new headquarters facility one hour west of Cleveland – an iconic red barn structure on the edge of farm country.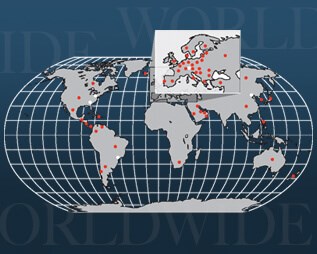 Worldwide expansion, too…
In 1978, Bettcher opened a European sales and service company in Switzerland, sparking heightened growth in international markets. By 2001, our international sales volume reached half of total annual revenues for the first time. Additional offices were opened in Brazil and China, with product distribution in more than 70 countries serving more than 20,000 customers.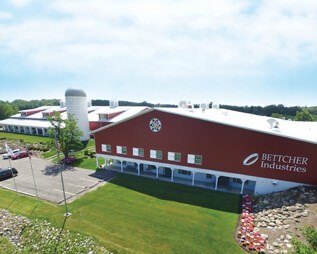 Another big expansion…
In 2008, a major initiative at headquarters expanded R&D, engineering, manufacturing and warehouse space, nearly doubling the size of the facilities. Further renovations and upgrades followed in 2017, including the opening of the Bettcher Innovation Center.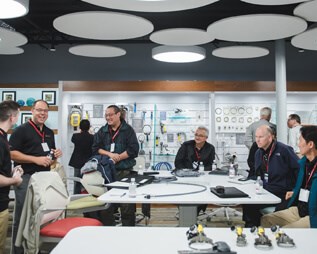 Innovation from the start…
We hold more than 100 active patents in several countries. The Bettcher Innovation Center embodies our spirit of innovation. It's where we explore, develop and commercialize the next generations of Bettcher products and market solutions.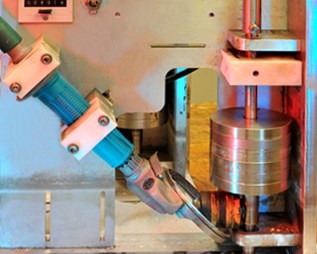 Testing for long-term success…
With Bettcher products, quality is "designed in" from the start. That means rigorous testing in our facilities as well as in the field to ensure that every product is "high-performance and high-durability."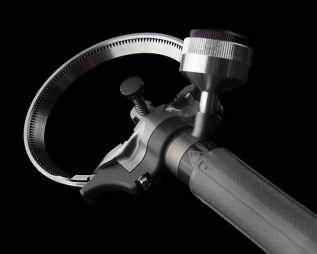 Successful introductions down through the decades…
Since 1954, we have introduced successive generations of powered handheld trimmer systems. Today, we continue to hold more than 95% share of the market worldwide.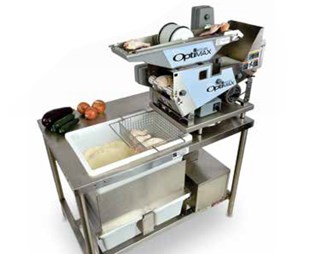 More than just trimmers…
In addition to our industry-leading trimmers, we manufacture other innovative tools like AirShirz® pneumatic scissors for food processing and industrial applications, as well as foodservice equipment like automated batter breading machines and breading stations.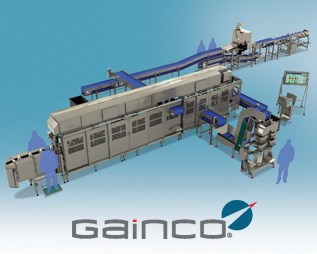 Leadership in yield management, too…
Our subsidiary, Gainco, Inc. in Gainesville, GA, manufactures equipment and systems to measure and manage yield, productivity, food safety and quality. Four major categories of solutions cover product weighing, deboning, inspection and yield management.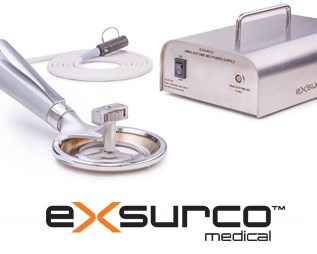 Medical products…
We established Exsurco Medical in 2011 and achieved ISO 13485 accreditation in 2015. Exsurco devices offer a revolutionary way to perform surgeries on burn patients and for cadaveric tissue recovery. It's new technology that's rapidly changing industry practices.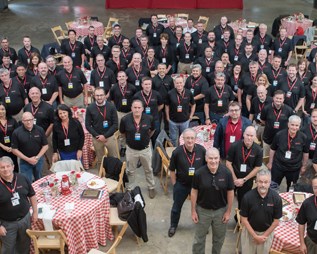 At the heart of everything we do – our employee-owners…
What makes a company most successful is the quality of its workforce. In 2014, Bettcher became an ESOP company, and in 2017 MPE Partners made a substantial investment in our business. Our 300 employee-owners are fully committed to serving the Bettcher customer base. After all, each customer's success is our success.
For more Bettcher company history,
click here
to view our presentation.
Check out the amazing career opportunities waiting for you!
Please click on the link below. A new window will redirect you to the Bettcher Careers page. Leave that page open. In the CMTE Inquiry form below, you will be able to inform our Bettcher Industries CMTE Coordinator that you have expressed interest in as many as three roles. You can even alert us when you submit an application for employment in the CMTE Referral form.
https://www.bettcher.com/en/about/careers
Certified Military Talent Employer (CMTE) Profile
Designated a NEOVETS Certified Military Talent Employer in July 2019
Has a Veteran Resource Group
Accepts Referrals from CMTE Partners and NEOVETS
Trained Military Recruiter
Leadership has training planned for USERRA
CMTE Coordinator IS a Veteran
Formalized Veteran Outreach Program
Adopts a Military Leave Policy
Trains Bettcher Industries non-veterans about national guard and reserve duty to improve relations
Adopts distinct Veteran onboarding program
Provides constructive and meaningful feedback to NEOVETS about referrals' applications and interviews
Geographic Locations: Northeast Ohio, and…

Bettcher Industries is recognized throughout the world as a leading manufacturer and supplier of food processing equipment. We've introduced successive designs of handheld cutting and trimming tools that are used in thousands of meat, poultry and seafood processing plants. We also manufacture products used in the foodservice, industrial and medical sectors.

Key company facts:

Founded in 1944
Headquartered in Birmingham, Ohio
An ESOP company with 300 employee-owners
Nearly 100,000 sq. ft. of manufacturing and office space
ISO 9001:2015 certified
Industries served:

Protein processing (pork, beef, poultry, seafood)
Foodservice
Medical instrumentation (Exsurco Medical)
Industrial

Nearly 100 active patents
Serving over 20,000 customers (domestic and international)
Global operations:

Divisions: Bettcher Group; Gainco; Exsurco Medical
Direct offices in USA: Birmingham, OH; Gainesville, GA
Direct office in Europe: Bettcher GmbH (Lucerne, Switzerland)
Direct office in South America: Bettcher do Brasil (São Paulo, Brazil)
Direct office in China: Bettcher China (Beijing, China)

Product distribution in more than 70 countries through approved partners

31 International Locations outside the United States

Coming Soon: Check out their latest testimonial video below!
---
Use the form below to submit an inquiry directly to the Bettcher Industries CMTE™ Coordinator.